Aluminium w budownictwie
Aluminium jest niezwykle rozpowszechnionym metalem, stanowi 8% masy skorupy ziemskiej, jednak dopiero w 1853 roku rozpoczęto produkcję aluminium. Początkowo będąc bardzo drogim metalem, wykorzystywany był do produkcji medali i biżuterii, w 1867 pojawiły się pierwsze druty i folia aluminiowa, a dopiero w latach 80-tych XIX wieku rozpoczęto produkcję aluminium na szeroką skalę. Dzięki swym właściwościom, aluminium bardzo szybko stało się jednym z głównych materiałów wykorzystywanych w każdej gałęzi przemysłu.
Foto: Charakterystyczny sklep Selfridges w Birmingham, pokryty aluminiowymi dyskami.
Głównymi zaletami aluminium, dzięki którym jest tak chętnie używane w przemyśle budowlanym, są:
Lekkość aluminium – metal ten jest trzykrotnie lżejszy od żelaza; pozwala to na redukowanie końcowej masy projektu;
odporność na korozję – aluminium wzmocnione poprzez anodowanie wykazuje wysoką odpornosć na różnego typu korozje, dzięki czemu wykorzystywane jest w projektach, gdzie metal narażony będzie na czynniki zewnętrzne, wysoką bądź niską temperaturę, wilgoć itp.
Plastyczność – aluminium jest łatwe do formowania
Odporność na ogień
Aluminium łatwo wiąże się z innymi metalami; pozwala to np. na tworzenie stopów niezwykle odpornych na korozję, czy stopów o niezwykle wysokiej twardości.
Ekologiczne – aluminium jest nietoksyczne, ponadto jest łatwe do przetwarzania. Szacuje się, że ponad 75% wyprodukowanego aluminium jest nadal wykorzystywana.
Wysokie przewodnictwo prądu;
Przełomowym momentem w historii aluminium był rok 1931, kiedy to zbudowano Empire State Building. Większość jego wnętrz pokrywały aluminiowe dekoracje, charakterystyczna iglica również została zbudowana z aluminium.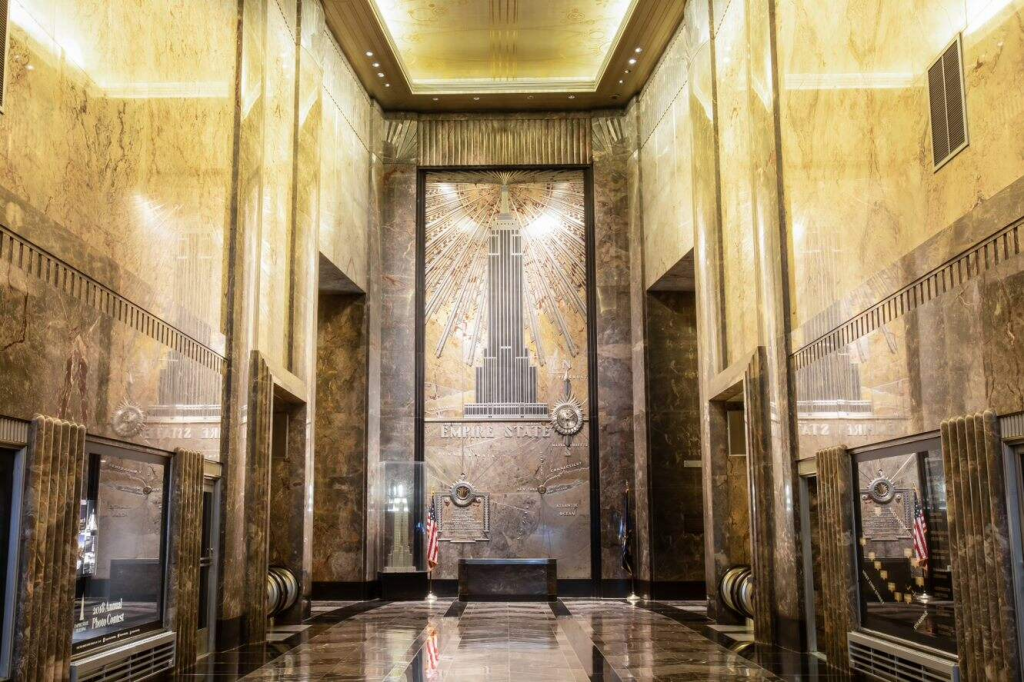 Foto: wnętrze Empire State Building, gdzie aluminium wykorzystane było jako element dekoracyjny
W dzisiejszej branży budownictwa, aluminium stanowi jeden z głównych materiałów, jakie są używane w konstrukcji. Ramy okienne i framugi drzwi, dachy ( szczególnie te pokrywające dużą powierzchnię, jak i ruchome części dachów i zadaszeń), wszelkie ruchome części (np. W strukturze mostów), struktury wystawione na działanie czynników zewnętrznych, maszty, iglice, hydraulika… Zastosowań aluminium jest mnóstwo!