Smart technologies at Agritechnica
All major agricultural machinery manufacturers come to Agritechnica, the world's largest agricultural exhibition. The branch meeting attracts professors, contractors and traders as well as engineers and scientists from all over the world. This year more than 2,500 exhibitors from 53 countries will be represented. From 12 to 18 November 2017, Hannover will again be the world's most important shop window in the industry.
At the organizer Deutsche Landwirtschafts-Gesellschaft (DLG), preparations are already being made on high-speed trains. We are pleased that DLG project manager Marie Servais provides us with information about the branch platform and the mega event Agritechnica.
Ms Servais, What does Agritechnica do? Two years ago about 451,000 visitors, including 98,000 from abroad, came to Agritechnica.
And why? The agricultural trade fair is the novelties shop window for manufacturers. They even focus their innovation cycles on the fair and present their innovations here to the world market. As a result, Agritechnica once again underlines its leading position as the world's most important forum for the presentation and launch of new machines and equipment in agricultural technology.
We are already looking forward to this year, because the exhibitors have submitted more than 300 new products. An independent and international expert commission set up by the DLG is reviewing the new products and awarding directional developments with the "Innovation Award Agritechnica 2017" in gold and silver – this is our highlight this year.
What are the trends at the fair? Agritechnica is presenting this year under the theme "Green Future – Smart Technology".In this way, we want to combine and express sustainable business with intelligent and efficient technology.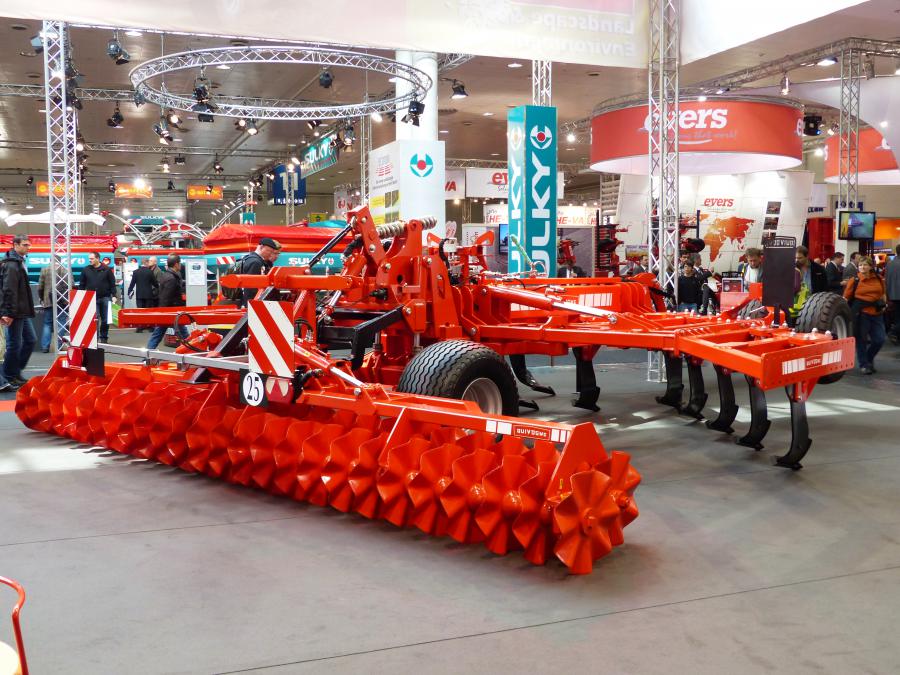 In principle, we cover all areas of agricultural technology at Agritechnica. An overriding trend, however, is certainly the increasing networking of the applications. Agriculture is increasingly becoming a high-tech sector. With Precision Farming, a field of partial surfaces is adapted to provide fertilizer or plant protection products. Meanwhile SMART Farming is increasingly focusing on the individual plant. The processing of large amounts of data, often in real-time, and the use of autonomous systems are in the process of being put into practice. Although this is still a trendsetter in many workplaces, this trend is already apparent.
You may also like to read: The Green Machine, a project to cultivate the deserts
The Systems & Components division has developed into a special exhibition within Agritechnica. Whom do you want to particularly address with this exhibition part?
That is true, "Systems & Components" offers an international platform for systems, modules, components and accessories for agricultural machinery and affine industries. In this way, the visitors will learn about innovations from the fields of engines, hydraulics, axles, drive technology, cabins, electronics, spare and wear parts and corresponding software. In the meantime, machines from the agricultural sector and their components have developed into highly complex units. The optimal interaction between componentsplays an essential role today when mobile applications are to function optimally. The "Systems & Components" is therefore under the leitmotiv "Stay connected". In addition, it enables expert dialogues, cooperation discussions and business contacts.
Are there any special offers for the new generation at Agritechnica?
Yes, we are organizing our own career at Agritechnica with "Campus & Career". Here, you'll find everything about career, career and career as well as research and science. In this way, we offer job seekers and young job starters a starting point for professional orientation in the agricultural and agricultural sector.
In addition to exhibitor stands for personnel recruitment, established offers such as the Young Farmers Day, Campus and DLG career and career counseling services are on display. In addition, there is a broad and exciting program – not just for young trainees. Of course, universities and research institutes are also represented. Among other things, they provide information on various training and further education opportunities as well as on new courses in the agricultural and agricultural engineering sector. However, talks can also be held here on current research at the universities.