Socage SPEED | Automatic stabilization
Innovative standard solution in truck-mounted platforms, it brings great advantages and increases safety, facilitates the correct use of the stabilization maneuver.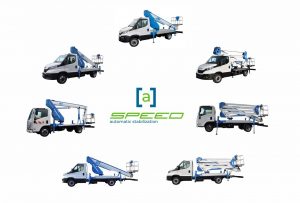 With a single button, even from the basket, it allows you to obtain a stabilization OK to work in a safe, simple and fast way.
The extra stroke of the Socage vertical stabilizers perfectly integrates the SOCAGE SPEED automatic stabilization guaranteeing a safe stabilization with greater ability to overcome irregularities.
Socage is always looking for innovation in its product range and usability of truck lifts. The result is the introduction of a new range of platforms with SPEED automatic stabilization. A revolutionary bet of the brand that will change the market for truck platforms up to 3500kg.
Thanks to its oversized stabilizing feet and just by pressing a button, the operator perfectly settles the machine leveling over any ground. In the same way all the models that belong to the SPEED series are fitted with automatic return to the transport position. The operator only has to press a knob to activate the automatic closure of the boom.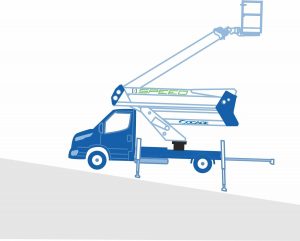 Even on slopes
The SPEED functionality differs from normal manual stabilization systems, which require more time and more maneuvers for a correct positioning of the equipment. The automatic stabilization allows a clear increase in the productivity of the platforms with a better stabilization in less time and under conditions of total safety. The stabilization is undoubtedly the most important and frequent maneuver during the work activity.
Socage has also taken advantage of the launch of the new SPEED series to improve its product in other aspects such as operation, security and operator's assistance for a better user experience.
For years Socage has focused on achieving quality and high-performance platforms with a better user experience for the operator in order to satisfy any requirement of both rental companies and final users.
Socage's new SPEED range will not only revolutionize the market but it will also allow operators to complete their work in the shortest time possible and in extreme safety conditions.