The interesting world of Laptops
Laptops came to the rescue during the pandemic and more and more businesses looked for ways for their employees to work from home safely. With laptops being a portable alternative to a desktop it is easy to see why they have increased in popularity over time. If you have a laptop that is running a little slow or taking a long time to charge a visit to a Laptop Repair Gloucester company like Cotswold Computer Medic will see it running fast in no time at all.
The first laptop was created in 1979 by a designer called Bill Moggridge who was supported by a business called GRiD Systems Corporation. They designed a system that had a display screen that folded down over the top of the keyboard. They called it the 'GRiD Compass'. By 1982 these computers were being sold in their hundreds to NASA and the US military.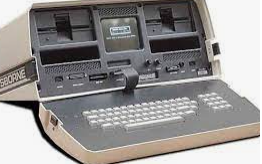 This early laptop was used in the Space Shuttle program and although it was a lot more lightweight than other computers that were used at the time, it still required mains power in order to work. The first fully portable laptop that contained a battery was created in 1981 by Adam Osborne and was called the 'Osborne 1.' It only weighed 11kg and had a battery pack that would allow it to work for one hour when away from a mains electricity supply.